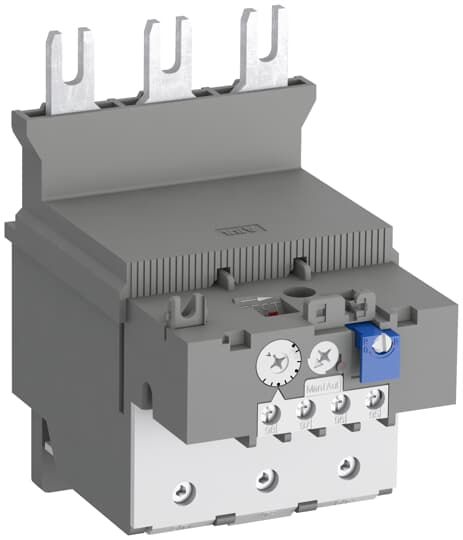 RELAY, THERMAL OVERLOAD RELAY 3P, 690VAC TF140DU-135
Giá: Liên hệ
Thông tin sản phẩm
Mã hàng
: TF140DU-135
Bảo hành
: 12 Tháng
Hãng sản xuất
: ABB
Xuất xứ
: H-Fast Việt Nam
Mô tả sản phẩm
Extended Product Type:TF140DU-135
Product ID:1SAZ431201R1003
EAN:4013614446832
Catalog Description:TF140DU-135 Thermal Overload Relay
Long Description:The TF140DU-135 thermal overload relay is an economic electromechanical protection device for the main circuit. It offers reliable and fast protection for motors in the event of overload or phase failure. The device has trip class 10A. Further features are the temperature compensation, trip contact (NC), signal contact (NO), automatic- or manual reset selectable, trip-free mechanism, STOP- and Test function and a trip indication. The overload relays are connected directly to the block contactors.
Ordering
Minimum Order Quantity:

1 piece

Customs Tariff Number:

85364900
Dimensions
Product Net Width:

89 mm

Product Net Height:

140 mm

Product Net Depth / Length:

126 mm

Product Net Weight:

0.82 kg
Technical
Setting Range:

100 ... 135 A

Rated Operational Voltage:

Auxiliary Circuit 440 V DC




Auxiliary Circuit 500 V AC




Main Circuit 690 V AC

Rated Operational Current (I

e

):

135 A

Rated Operational Current AC-3 (I

e

):

135 A

Rated Frequency (f):

Auxiliary Circuit 50 Hz




Auxiliary Circuit 60 Hz




Auxiliary Circuit DC




Main Circuit 60 Hz




Main Circuit 50 Hz




Main Circuit DC

Rated Impulse Withstand Voltage (U

imp

):

Auxiliary Circuit 6 kV




Main Circuit 8 kV

Rated Insulation Voltage (U

i

):

690 V

Number of Poles:

3

Number of Auxiliary Contacts NC:

1

Number of Auxiliary Contacts NO:

1

Number of Protected Poles:

3

Conventional Free-air Thermal Current (I

th

):

Auxiliary Circuit NC 10 A




Auxiliary Circuit NO 6 A

Rated Operational Current AC-15 (I

e

):

(120 V) NC 3 A




(120 V) NO 1.5 A




(240 V) NC 3 A




(240 V) NO 1.5 A




(400 V) NC 1.9 A




(400 V) NO 1 A




(440 V) NC 1 A




(440 V) NO 1 A




(500 V) NC 1 A




(500 V) NO 1 A

Rated Operational Current DC-13 (I

e

):

(125 V) NC 0.25 A




(125 V) NO 0.25 A




(24 V) NC 1.25 A




(24 V) NO 1.25 A




(250 V) NC 0.12 A




(250 V) NO 0.04 A




(60 V) NC 0.25 A




(60 V) NO 0.25 A

Degree of Protection:

Housing IP20




Main Circuit Terminals IP10

Pollution Degree:

3

Connecting Capacity Auxiliary Circuit:

Flexible with Ferrule 1/2x 0.75 ... 2.5 mm²




Flexible 1/2x 0.75 ... 2.5 mm²




Rigid 1/2x 0.75 ... 4 mm²

Connecting Capacity Main Circuit:

Flexible with Ferrule 1/2x 16 ... 70 mm²




Flexible with Insulated Ferrule 1/2x 16 ... 70 mm²




Flexible 1/2x 16 ... 70 mm²




Rigid 1/2x 16 ... 70 mm²

Tightening Torque:

Auxiliary Circuit 0.8 ... 1.2 N·m




Main Circuit 8 ... 10 N·m

Wire Stripping Length:

Auxiliary Circuit 9 mm




Main Circuit 25 mm

Recommended Screw Driver:

Auxiliary Circuit Pozidriv 2




Main Circuit Hexagon 4

Mounting Position:

Position 1 to 5

Power Loss:

at Rated Operating Conditions per Pole 3.2 ... 5.8 W

Suitable For:

AF116




AF140

Standards:

IEC/EN 60947-1




IEC/EN 60947-4-1




IEC/EN 60947-5-1




UL 60947-1




UL 60947-4-1
Environmental
Ambient Air Temperature:

Operation -25 ... +55 °C




Operation Compensated -25 ... +55 °C




Storage -40 ... +70 °C

Ambient Air Temperature Compensation:

Yes

Maximum Operating Altitude Permissible:

2000 m

Resistance to Shock acc. to IEC 60068-2-27:

11 ms Pulse 12g

RoHS Status:

Following EU Directive 2011/65/EU
Technical UL/CSA
Maximum Operating Voltage UL/CSA:

Main Circuit 600 V AC

Ampere Rating UL/CSA:

135 A

Contact Rating UL/CSA:

(NC:) B600




(NO:) C300

Connecting Capacity Main Circuit UL/CSA:

Flexible 1/2x 6-2/0 AWG




Stranded 1/2x 6-2/0 AWG

Connecting Capacity Auxiliary Circuit UL/CSA:

Flexible 1/2x 18-14 AWG




Stranded 1/2x 18-14 AWG

Tightening Torque UL/CSA:

Auxiliary Circuit 12 in·lb
Certificates and Declarations (Document Number)
Container Information
Package Level 1 Units:

1 piece

Package Level 1 Width:

165 mm

Package Level 1 Height:

133 mm

Package Level 1 Depth / Length:

151 mm

Package Level 1 Gross Weight:

0.945 kg

Package Level 1 EAN:

4013614446832

Package Level 2 Units:

4 piece

Package Level 2 Width:

280 mm

Package Level 2 Height:

210 mm

Package Level 2 Depth / Length:

395 mm

Package Level 2 Gross Weight:

8.786 kg

Package Level 2 EAN:

4013614494376
Classifications
Object Classification Code:

F

ETIM 4:

EC000106 - Thermal overload relay

ETIM 5:

EC000106 - Thermal overload relay

ETIM 6:

EC000106 - Thermal overload relay

ETIM 7:

EC000106 - Thermal overload relay